07.3.12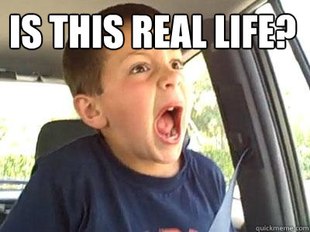 Hey guys, sorry I haven't posted for a while. I had to do my Tour of Destruction through Savannah and Charleston to see as much of the beautiful South before I fly out to Korea for a year.
Sometimes I feel really fucking smart, and sometimes I feel really fucking stupid. I'm in the latter mode currently, because I have been musing over this concept for awhile: "Who the fuck am I?"
I mean yeah, I'm having a mental breakdown over moving so far away, but it's also more specific to not only "Who am I in games?" but "What does it mean to be me in games?"
<--- He's got it right.
Believe it or not, David After Dentist is a fucking Ontological genius. I really don't want to tackle the giant fucking question right now, so I'll deal with an (arguably) simpler one: "What does it mean to die in games?"
The problem for me is that the experiental state that gaming puts us in is unparalleled in human experience. In a blog I wrote here, I discuss this phenomenon I call "First Person Omnicience" which is the ability to play as a character, yet know things about your environment that said character would never know AND FUCKING MANIPULATE THAT KNOWLEDGE TO YOUR ADVANTAGE.
Perfect Example? Dark Souls.
This is a game that is fucking BUILT around you DYING and then knowing NOT TO DO THAT SHIT AGAIN.
So what is death? Inconsequential. This isn't just Dark Souls, this is every game. Dark Souls is just the extreme. The concept of death in games changes our entire ontological perception. We're getting into some crazy philosophical monism here, but you understand that our perception of existence in life is entirely different from our perceptions of existence in-game. I mean, technically we could say that 100% completion of a game or reaching the End Credits constitutes "game death" more than literal game death, since it brings about the end of our narrative. But, that may be a little over simplified.
At times,
people become more in tune with this digital self than with their "actual" existence. People meet and marry over video games, and are even psychologically affected by rape in a video game. We're not talking about photorealistic PS3 rape, we're talking text-based, AIM chat meets The Sims rape. So how can that be more psychologically impactful than dying? Is it because she put more of herself into her character? Is it because death is such an abstraction to us that we have no psychological response to it?
When Aerith dies in FFVII, I just about lept to my television to save her from falling, but when I die during a battle? Sure...it's frustrating, but no big deal, I can just restart and try again. Is it the irreversibility of death that captures us so emotionally then?
I think what makes this so hard for me is that gaming creates a limited psychological response for the death of self that cannot physically exist in actuality. If we die in a game, we are given the ability to ponder it and perhaps start over. Even in games that have hardcore modes (most notably Diablo 3), sure we might go full out hulk rage if our hardcore character dies, but if we are masochistic enough we can always choose to try again until we succeed. Does this diminish our own importance? Or in reality do we just have this false notion of self-importance due to our own realized fragility?
I don't have real answers to any of this, but it's certainly an interesting space to inhabit. Games allow us to be ourselves, yet be outside of ourselves simultaneously. We exist as our own panopticon: always watching our own actions and judging our own fate. Hell, most games take place in Third- Person almost solely for this reason.
So this brings us to the concept of "What is Reality?" and if gaming is perhaps more real than reality could hope to be, or do we even WANT a realistic game? And even: What do we mean when we ask for a realistic game? This is a topic I hope to cover much more in-depth (I picked up some books) soon after David After Dentist and I have had more time to think about real life, so please stay tuned!
JD
|
Post a Comment
|
in
Articles